Be Safe! Know What's Underground Before You Dig!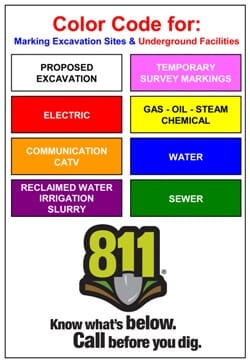 A damaged gas pipeline or service line to a house or building can create an explosion hazard that could endanger both people and property. Natural gas pipelines and other underground utilities (water and sewer lines, electrical conduit) could be within a few feet of the grounds surface. At least 2 business days before you dig or grade or have a contractor excavate or grade on your property, please notify your utility providers by calling USA (Underground Service Alert) and also confirm that any contractor excavating on your property notifies USA.
USA is a free service for homeowners, excavators and professional contractors who are digging, blasting, trenching, drilling, grading or excavating. USA business hours are 24 hours, 7 days a week.
When you call USA, an operator will ask you a few questions such as your planned excavation location, date and time of excavation, your name, city/county and whether or not you marked-out your excavation site in white paint. West Coast Gas Company Inc. and other affected utilities will be at your location within 2 business days to locate their underground lines (if any). It's easy to use and it's free!
Call 800-642-2444 or 811 or visit their website at www.usanorth811.org